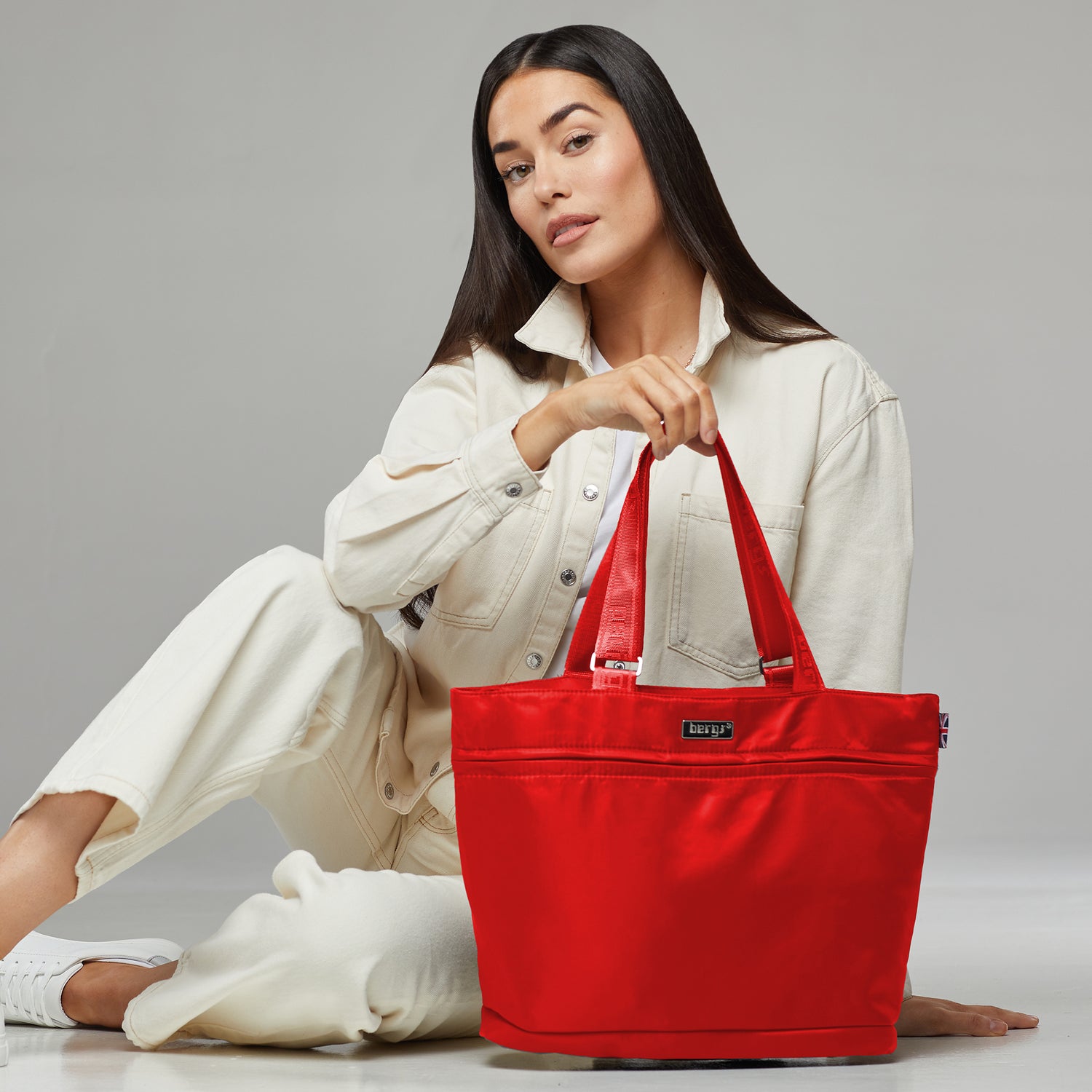 Bergs3in1
You'd never guess the depths this bag goes to, quite literally. Bergs3in1 is the ultimate Mary Poppins style bag.
Fully adaptable and excellent value for money, it's practically perfect in every way! We've all headed out shopping with the intention of just looking, only to return laden down with more bags than we can carry. Not any more. Whether you're looking for a sidekick to help with the weekly groceries, or for a girls shopping trip, the Bergs3in1 is what you need. Not a shopper? No worries, this bag is the very definition of multifunctional. Perfect as a gym bag, or for a weekend away, this bag is fully compatible with airline regulations at all 3 sizes.
This looks like it should be complex to transform, right? Wrong. A series of simple zips make this multi-purpose, ingenious product easy to adjust, even when you're on-the-go.
Available in 13 colours and patterns, you don't even have to worry about your outfit choice.
What's different about BergsDesigns bags?
Here at BergsDesigns, we LOVE helping you get more out of your bag because we firmly believe that 1 bag, shouldn't have just 1 purpose. Our ranges are full of inventive designs that will leave you feeling WOW-ed. Unlike fast-fashion bag companies, our hand-crafted ranges are made to stand the test of time, so you can buy just the one bag, saving money, space and the environment. Better designs. Better quality. Better value. Simple.
Multicolumn
PHASE 1 • Wear it!

Bergs3in1 starts its journey as a practical and durable handbag. Large enough for a laptop, it's perfect for the office. The silky straps are adjustable, providing comfort as you wear it.

PHASE 2 • Whoosh it!

Transforming with 1 simple zip, Bergs3in1 becomes an oversized shopper. Providing double the capacity of phase 1, the shopper is hard-wearing and strong. The zip itself is subtle and does not affect the overall design of the bag.

PHASE 3 • Wheel it!

This is where the magic happens. Unzipping the compartment at the base of the bag reveals a set of wheels that you can simply flip out, and VOILA, Bergs3in1 becomes a wheelable bag. Now, get ready to roll!
Did you know?
With a reusable shopper such as this, you could save over 500 single-use plastic bags per year! Over the span of a lifetime, that's 35,000 bags.
Single-use plastic bags are made using non-renewable resources, and take huge amounts of energy to manufacture, transport, and recycle. Although this type of plastic is recyclable in theory, it causes massive problems at recycling plants by blocking equipment.
It also releases harmful chemicals over time. Which is why, if you haven't made the switch to a more eco-friendly alternative yet, now's the time.
Skip out on the details? We don't think so. Features of this bag include:
Compatible with airline regulations.
Water-resistant material.
Easy to maintain.
Lightweight.
13 colours and patterns to choose from.
Strong, durable zips.
2 inside pockets.
A conscious alternative to single-use plastic bags.
Adjustable straps.
View Products